Bone Density Screenings are available at these locations: 
At Southtowns Radiology, we are early detection champions for Osteoporosis.
More than 54 million Americans have low bone density, or Osteoporosis. This condition occurs when bones become weak to the point of breaking. This weakening may be due to aging or caused by other factors that combine with age. Symptoms of osteoporosis do not occur until a lot of bone strength is lost. Visible symptoms may include loss of height, along with curvature of the upper back. Osteoporosis also can result in a crippling and painful fracture, occurring most often in the hip, back or wrist.
A DEXA scan is commonly known as a bone scan or a bone density test. The technical term for the method is "dual-energy X-Ray absorptiometry," or DEXA.
Southtowns Radiology offers bone density screening in Hamburg and Orchard Park.
Call 716.649.9000 to schedule your appointment at the Hamburg or Orchard Park location. Most appointments take approximately 10 minutes, and results are usually provided to the doctor who ordered the screen within 48 hours (with the exception of Saturdays).
Bone Density Testing Near Buffalo, NY
Southtowns Radiology is nationally accredited by the American College of Radiology.
We follow their recommendation, along with that of the United States Preventive Task Force (USPTF) with regard to screening for osteoporosis: starting at age 65, women should receive a bone density screening every two years.
A bone density test compares your bone to that of a "young adult" at peak bone strength (T-score):
Normal = above -1
Osteopenic (low bone mass) = -1 to -2.5
Osteoporosis = below -2.5
Your T-score, combined with other risk factors, will enable your healthcare provider to estimate what your risk of a hip fracture or other major osteoporosis-related fracture will be in the next 10 years. This information will help your doctor determine what course of action should be taken. The bone densitometry test is also useful in following bone changes. Your provider may suggest follow-up tests to detect change over time.
We are proud to offer Hologic Horizon DXA technology, which was purchased in 2021, at both offices.
There are important risk factors to consider when thinking about osteoporosis:
Family history of osteoporosis
Medicines (such as steroids or anticonvusants)
It's a good idea to talk with your provider about your history around broken bones and fractures.
We encourage you to let your primary healthcare provider know any history of broken bones or fractures. It is also a good idea to have regular conversations around diet, exercise and medication usage.
Remember – you are your own best healthcare advocate. If you have multiple risk factors to consider, it's a good idea to ask about a bone scan early – do not assume your provider will come to you with this information.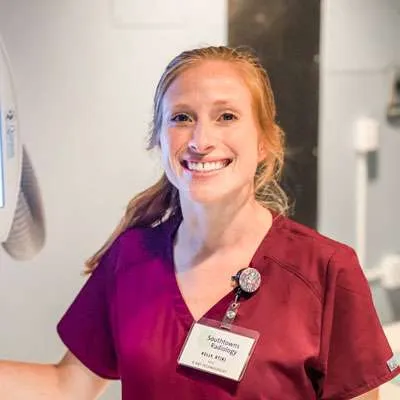 When deciding where you will go for your bone scan, it's important that you find an imaging center that is:
In your insurance plan's network and accepts Medicare.
Committed to providing results to your doctor or primary care provider within 48 hours.
Close to work or home.
With locations in Hamburg and Orchard Park, Southtowns Radiology is easily accessible to most communities south of Buffalo and are 20 minutes or less away from West Seneca, East Aurora, Angola, Blasdell, Eden, Lake View, Derby, Elma, North Collins, Silver Creek, Boston and Springville.
Typical insurance coverage and out of pocket cost for bone density screening you should consider include:
We are In-Network with all major insurance carriers, including Independent Health, Highmark BlueCross BlueShield, Univera, Aetna, United Healthcare and more. Most insurances, including Medicare Part B, cover a DEXA scan every other year for those who fall within the recommended screening guidelines. At Southtowns Radiology, our standard self-pay cost for this exam is $60.
For a comprehensive list of insurances we accept, or if you have questions regarding your insurance coverage, please see our Billing & Insurance page. You can also call the customer service number on your insurance card and talk directly with a representative there.
Before your bone scan appointment, you should know:
When you arrive for your bone density screening, it's essential that you have your script with you. If you don't have your script, please call the provider who ordered your imaging to ensure that one can be faxed to our office at 716.649.9005 before your appointment.
The bone densitometer is like a large examination table. It is padded and comfortable. Your name, age, height, weight and ethnicity will be entered into the computer before your test. This information is used to compare your results to a normal reference group.
During the bone density test procedure, you will be asked to lie on your back, remaining in your normal clothing in most cases. Belt buckles, metal or thick plastic buttons and metal jewelry will need to be removed from the region being examined. Our technologist will position your arms and legs for the test, which is painless and typically takes 10 minutes. You just need to lie still and breathe normally.
Approximately 10 Minute Exam
Remove All Metal Prior to Procedure